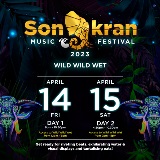 nEbO is giving away 2 pairs of Day 1 tickets (worth $136/pair) to the Songkran Music Festival 2023* that's happening from 14-15 April at Wild Wild Wet, to 2 lucky nEbOians! 💦
*Important note: The event is only for those aged 18 and above.
All you have to do is:
Like this post.
Follow our Facebook & Instagram pages (@nEbOSG) and Songkran Music Festival (@SMF.SG).
Share with us why you should win 1 pair of tickets and tag your bff who you would like to go with in the comments​.
The giveaway ends on 26 March 2023. Good luck! 🍀
Visit https://bit.ly/nEbOsongkran2023 for more information about the event.
#nEbOSG #SMFSG #DowntownEast #WildWildWet
TERMS & CONDITIONS
Giveaway is only applicable for nEbO members aged 18 and above.
All submissions must be within the period of "20 March 2023 to 26 March 2023 (2359hrs)".
Prizes will only be awarded to 2 winners.
nEbO reserves the right to refuse any entry which contains inappropriate content.
nEbO reserves the right to terminate the Contest or to modify the Contest rules and Terms prior to the Closing Date by amending the rules and Terms hereof at its sole and absolute discretion. Any such modifications shall be notified via the Contest Website or nEbO Facebook page, and such modifications shall be immediately effective and apply to all entries, including entries that have been submitted to nEbO
Prizes are non-transferable, non-refundable and exchangeable for cash or any other prize items.
nEbO reserves the right to revoke prizes if the winner does not meet any or all eligibility requirements, even though an announcement may have been made on air indicating that person was the winner.
There will be strictly no mailing of prizes, details will be sent via email.