U Heart 2021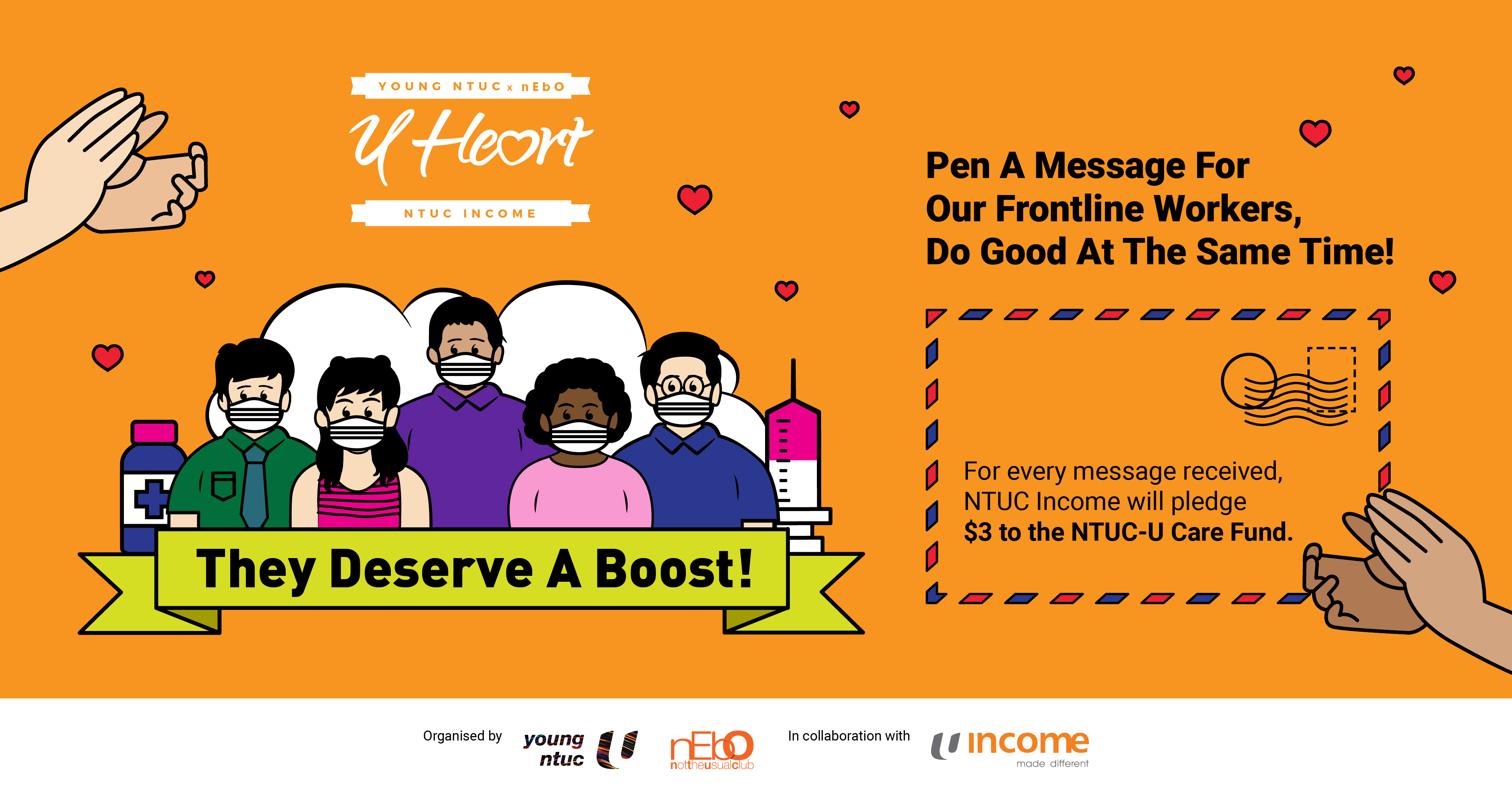 Pen A Message For Our Frontline Workers, Do Good At The Same Time!
As the nation begins administering the booster jabs, let us also give our healthcare workers a little morale boost! Join us in showing appreciation to 3,000 of our healthcare workers at the vaccination centres and nursing homes.
Here's how you can participate
Step 1: Fill in your name and email
Step 2: Pen a thank you note or a word of encouragement for our frontline healthcare workers working at the vaccination centres and nursing homes.
Submission closes on 17th December 2021!
Note: A donation of $3 is pledged for each message contributed by each unique email address.
Here's why you are doing good at the same time
For every message received, NTUC Income will pledge $3 to the NTUC-U Care Fund, which helps low-income members and their families through various assistance programmes to defray their cost of living and children's school expenses, as well as members whose livelihood have been affected by COVID-19.
What's next
Your message will be printed on a post card and distributed to the frontline workers at the identified vaccination centres and nursing homes. All the messages received will also be put up on this platform for viewing purpose.
About U Heart
U Heart is a joint cause-based initiative by Young NTUC and nEbO, in collaboration with NTUC Income. Launched in 2016, U Heart encourages young working adults to give back to the society. Annually, a U Heart mass activation centered on the theme of workers' appreciation will be organised. Be part of this meaningful initiative!
Follow us on socials
U Heart
Facebook: https://www.facebook.com/UHeartSG/
nEbO
Instagram: https://www.instagram.com/nebosg/
Facebook: https://www.facebook.com/nEbOSG/
Young NTUC
Facebook: www.facebook.com/yntuc
Instagram: www.Instagram.com/young.ntuc
TikTok: https://www.tiktok.com/@youngntuc
The specified form no longer exists or is currently unpublished.